Robert Golay
A guy like this gives you something to aspire to.
Back in the mid-1980's, when he was soaking up stories and lessons from the old-time truckers that introduced him to the business, a young Robert Goulay couldn't have known that 32 years later he'd become the keeper of wisdom himself.
It was a different time. One marked by an iron-clad sense of both dignity and professionalism, not to mention the fabled CB radio. When he was learning to drive truck as a young twenty-something at the height of the Big 80s, that was a culture that permanently shaped who he is. And it's something he's trying to pass on to the next generation of drivers.
"We were never 'King of the Road,'" says Robert, who now lives in St. Paul, Minnesota. "We were 'Servant of the Road.' The older guys that are still around will tell you the same thing."
It's easy to gripe about tough customers, he says, "but people don't realize what some of these drivers have done to make sure a meat shipment got to Phoenix on time even if they loaded it a day late, or a load of produce got to your grocery store on time even if they wanted it 30 hours later."
If he sounds nostalgic, Robert's professional pride has had a home in T-Brothers for almost a decade. It's a good fit with the culture of the company. After what he estimates is 4 million miles over the course of almost 33 years, the premium he puts on safety, hard work, and honesty is hard to overstate.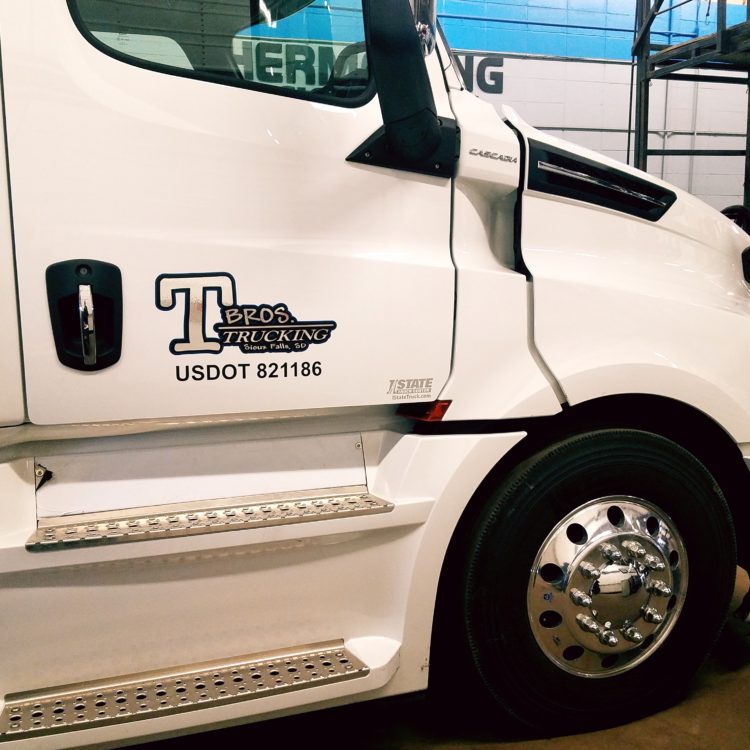 Robert's Message to the Next Generation:
After watching one era of trucking give way to another, Robert maintains a quiet self-assuredness learned from the drivers that came up before him. It's something he misses but tries to live out to set an example.
With the belief that a truck driver is like a Guardian Angel of the road comes both comradery and responsibility, and Robert says he enjoyed both in a way that seems to be fading away. That's in no small part thanks to the demise of the CB radio, which was both a mandatory piece of equipment when he started driving and also a link to the community of fellow truckers.
"Guys are getting on the CB telling their life story to each other on the radio — perfect strangers," he recalls. "You'd run into a guy on the road in the middle of the night, you never met him; guy would pass you and you'd say, 'Okay, buddy, bring it back. What do you got?'" And thus began a conversation to pass the time.
On more than one occasion, Robert would banter back and forth with other drivers in the lonely hours on remote highways, then stop and have breakfast with him. They'd part ways, never to speak again, but always bonded by a common code.
He also tells of a guy everyone knew in the region around Memphis, Tennessee they called "Elvis." The guy would get on the radio and start crooning like the King of Rock himself. Robert's also picked up more than a few off-color jokes drivers would share to break up the boredom. Driving truck is a great way to expand your catalog.
But as that "Servant of the Road," Robert has also felt responsible to help others in need. Those occasions when motorists got into a jam just underscored the importance of professionalism behind the wheel.
"Our trucks will run 100 miles per hour, no problem," he says. "But if you started out when I did, you didn't take first place. It wasn't all about you. There were always guys driving foolishly, but that guy wasn't driving a truck."
Like many in the trade, Robert has dealt with the consequences of people who drove foolishly, tried to "take first place," but ultimately lost. He's seen more than his share of fatalities, the very thing that reinforced the need to keep safety a sacred trust.
"I've never helped a dead guy out of a seatbelt," he says. "Every fatality I've seen, they weren't wearing their belt."
If that's a downside to the work, the upsides outweigh it. For Robert, it's a matter of getting out what you put into it. The first thing a young driver needs to do, he explains, is get ready to do all the things that others won't. And that's a source of pride.
Perhaps just as important, drivers like him have enjoyed the security of a home in T-Brothers.
"They've got your back," Robert says. "You take care of them, they take care of you. They take the time to get the best possible deal for you. They're fair. So you get out of it what you put into it. You do what you say you're going to do, and they go the extra step for you. There's companies out there you give 100 percent and they don't give you the time of day. These guys give you the time of day."
Maybe that's a little old-school, but for guys like Robert that have seen it all, it's a lesson worth learning.