Meet two owner-operators who changed their fortunes with T-Brother's lease-to-own program.
What makes a lease-to-own program such a game changer for drivers?
Done right, it puts your ticket to freedom within reach.
When you're an Owner/Operator, your truck is your castle. It's your office. It's home. It's payday. And in no small measure, it's your sense of who you are.
So, it's hard to understate how much that machine that you pour your heart and soul into over thousands and thousands of miles defines your life — both professional and personal.
The trick is to get the best rig possible.
That's why a lease-to-own program with T-Brothers makes all the difference to so many of the Owner/Operators who drive for us. We know this is a big deal. You're investing in more than a very high-ticket piece of equipment; you're investing in a relationship.
One of those people was Juan Alvarado, a 10-year driver and father of three out of Minneapolis who joined T-Brothers in 2015. After changing three trucks over a few years, he decided to upgrade to something newer and better.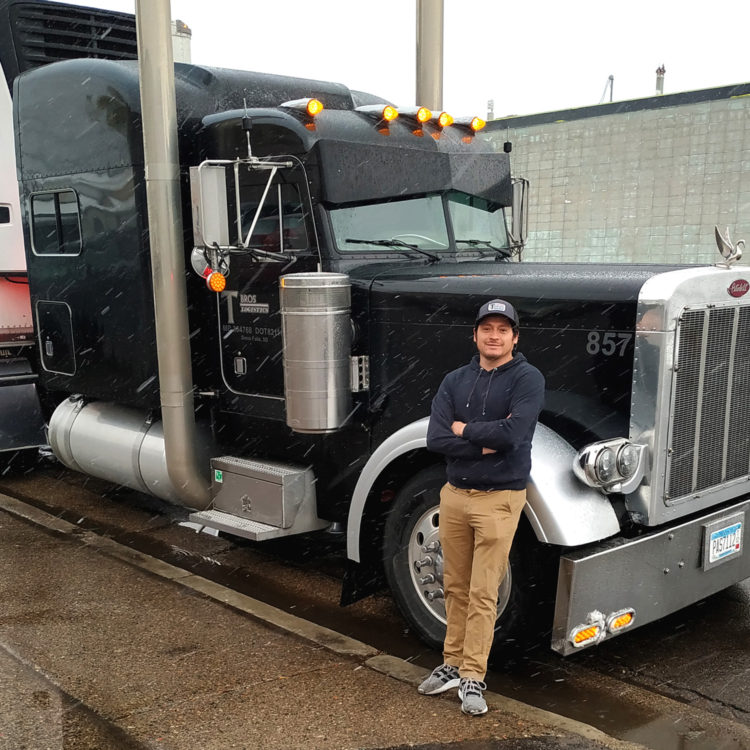 Coco-5 and Juan Alvarado (he's the one in the hat).
Juan Worked Hard for This. So T-Bros Worked Hard for Him.
It's kind of a family thing. We look after each other. But we don't just give it to anybody. If you know this is what you want to do and you want to go into business for yourself, let's talk.
"For me, the lease-to-own was a great experience," Juan says. "Troy put his hand into the fire for me. And everything went pretty smooth. I'm in a much better position than I was. They treat me well."
T-Brothers worked with our bank and Juan to arrange a lease-to-own on a 2002 Peterbilt 379 Long Hood. That's not typical for us — we prefer to set up our Owner/Operators in new tractors. But Juan is such a solid member of the team, we were happy to make it work. Plus, Troy knew the truck and previous owner.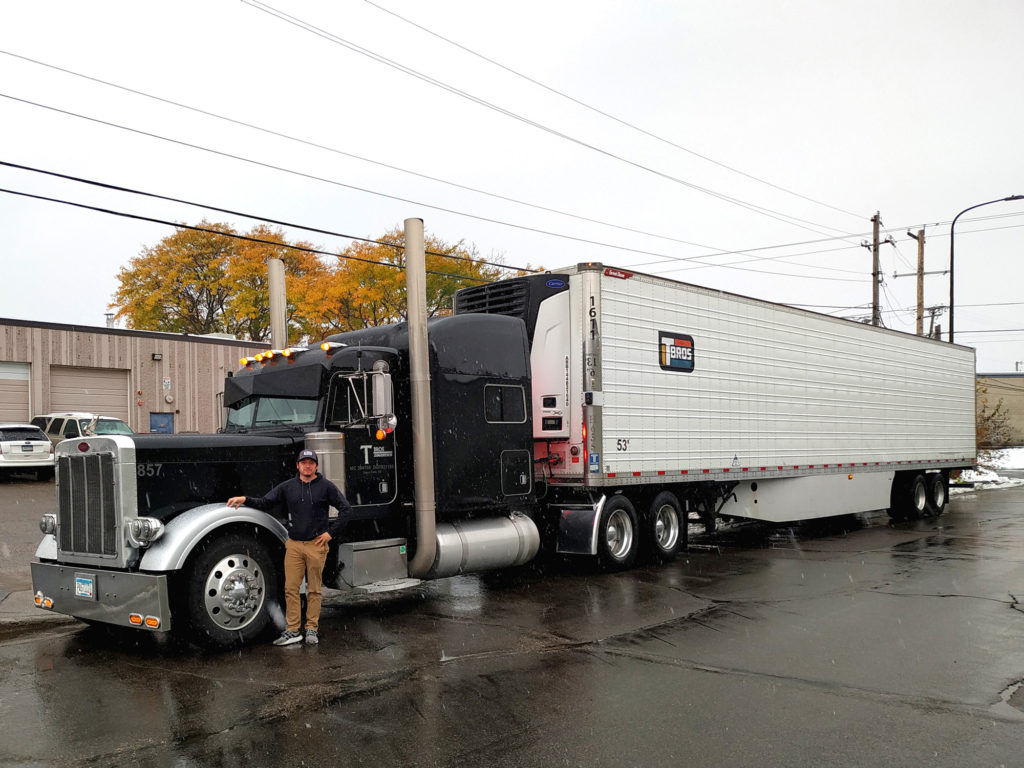 "It's a good looking, classic truck," Juan says. "I love it. It's higher quality, long hood, they don't lose their value."
With a lot of hard work, Juan paid off his lease in a year and half. He now fully owns his Peterbilt, nicknamed "Coco5." His credit score has shot up and he's banking a good chunk of change every month.
Juan's got a great attitude about it. I don't know if guys realize that — if they just did everything with a positive attitude, we really look out for them.
Juan's advice drivers looking at a lease-to-own opportunity with T-Brothers is straightforward.
"Never quit. Don't give up. Keep moving forward. Not everybody has someone pushing them forward, but my wife pushed me."
T-Brothers tries to make the experience of paying the lease simple and can deduct payments in small weekly bites instead of large monthly payments. In this way, Owner/Operators almost don't notice the payments. But one way you can find yourself off-setting the payment is by the savings you gain in a new rig with modern technology.
Your fuel savings typically covers part of that monthly payment, Troy says. In the case one of our drivers, what he saved in fuel basically paid half of his monthly bill. Owner/Operator Dan Casey learned that first-hand.
"The fuel economy of my old Kenworth was about 6.0," Dan explains. "I never thought I'd own a Volvo, but the one I leased is 8.2. In today's fuel prices, that's about $18,000 a year in my pocket."
A newer driver who's been on the road less than 10 years but at 57 is focused on making money, Dan found his Volvo 860 when his Kenworth was in the shop and his mechanic pushed him to visit the dealership across the road. He took a test drive and was sold.
"It's automatic. Comfortable. Like driving an RV down the road — you float down the highway," he says.
Dan points out that he didn't just save money on fuel, but on maintenance, too. They don't break down, and so you're not losing revenue. Your on-time percentage is higher, along with your customer satisfaction.
"Troy and Travis have built this company with the driver in mind," Dan says. "If you get in a pickle, they're going to help."
Troy says the lease-to-own program is a commitment for both the driver and T-Brothers — but it's one the company embraces, and one that's paid off over and over again for all parties.
"My message is simple," Troy says. "If you can make the commitment and stick it out three years, not three months, we're ready to make that commitment, too. Give us a shout."