Quincy Tambo
"I Feel Like I Already Won."
Stock car racing. Trucking. Humanity.  Each can teach you about the other, and Quincy Tambo is the man to give you the lesson.
Based in Sioux Falls, South Dakota, Quincy has been down some unusual roads — both literally and figuratively — in a life that's led him from South Africa and the Congo to the Midwest United States and a successful career in trucking. Those journeys shape his perspective on some uniquely American opportunities he's found in the business.
A son of a Czech mother South African father, Quincy first came to the US to pursue flight school in Iowa, where he had family with whom he could stay. When tuition bills grounded his dreams of becoming a pilot, he discovered a different mode of transport.
"I was going to do trucking for a year and that was going to be it," Quincy says. "And here I am 18 years later."
His first big job was delivering lamb from Hawarden, Iowa to kosher delis in Lower Manhattan. He got on well with his customers in New York and earned stripes pulling a reefer through the core of the most populated city in the US.
Four years into his career as a company driver, Quincy bought his own truck and struck out on his own. It was nine years before he met Travis Thie and signed on with T-Brothers.
"The best part of the work I do is it doesn't feel like work," he says. "If I take time off, I look forward to going back to work. With T-Brothers, we're home weekly. You get great miles and you don't have to fight dispatch to get home. They're genuinely nice people."
Today Quincy has four trucks with drivers that share a similar perspective: they all came from decent trucking companies, but when they traded their reefers for dry vans, they found they traded up in some other ways, too.
"Travis treats my guys the way he treats me," Quincy explains. "Most of the loads are driver-friendly. It's easy to figure out what your pay is going to be. Some companies make it complicated on purpose, and if they make a mistake, it's a mistake in their favor. But with T-Brothers, it's transparent. It's easy to understand."
Treating people right comes naturally to Quincy, and it's a lesson that's been reinforced on the road. His stories about the people helping each other out of tough spots just might restore your faith in humanity. Some of them have even become life-long friends.
One such couple was a husband-wife team from France driving a European-registered rig. They were stuck in a shop with well-meaning but stumped mechanics who didn't know how to service the foreign engine configuration. Quincy knew from experience that European fuel is more purified than what we run in the States; it just so happened that he had five gallons of kerosene with him that day, which is all it took to get the French team back on the road. They're still friends to this day.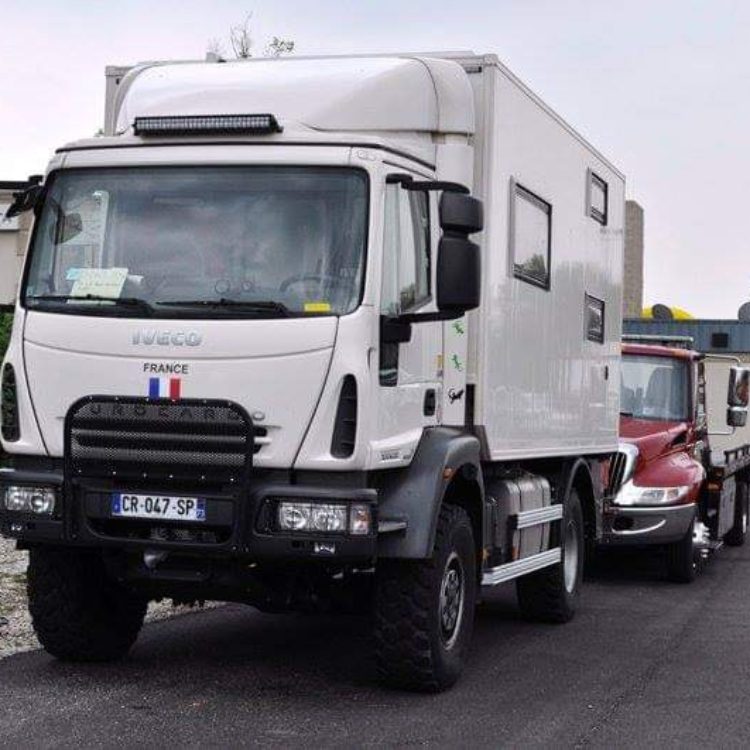 Quincy works hardest over the winter months to free up time for his other big passion: racing a modified BMW M4 stock car. He says his love of cars and trucking is a natural affinity. A lot of people who drive trucks, he explains, are also attracted to racing.
It's not just a matter of understanding engines and technology, it's about the physics of driving, too. In many ways, both link back to his days in flight school: it all comes down to being prepared.
"Racing helps me with trucking," Quincy says. "Coming into corners, picking up the right speed; how much you can demand from your tires, your grip. It took me years to get here, ten years learning and training."
He's sounds matter-of-fact when he explains he wins most of his events.
But the achievement Quincy speaks of with greatest pride is the moment he became a United States citizen.
"I always wake up feeling lucky. I wake up thinking, wow, I already won."